Back in January of 2004, while I tried to fill the boredom waiting for Super Bowl 38, I wrote a list of the 38 things I loved about the New England Patriots. I updated it for Super Bowl 39.
And now, as we sit on the eve of Super Bowl 53, the Patriots' 11th Super Bowl appearance, and third in a row, I present to you and updated list. the 53 Things I love about the New England Patriots. This is a labor of love…
53. 16-0
I had a lot of hesitation about putting this here considering I'm still not fully healed from the loss in Super Bowl 42. That said, it was one hell of a run. In hindsight, I've forgotten the stress of Spygate that peppered every win and can appreciate the accomplishment of finishing the regular season without having lost a single game. I am glad they got rid of that 16-0 banner, though.
52. Ben Coates
No matter the situation, Coates always seemed to be open in the end zone for Bledsoe.
51. Homeland Defense
The offense may have been the star the second decade (!!) of our dynasty but in the early aughts, it was all about that defense. Exemplified in the 2003 AFC Championship against Peyton Manning's Colts.
50. Big Play Willie Clay
Big Play's end zone interception of Mark Brunell in the AFC Championship in 1996 helped send us to Super Bowl 31. I'm not sure if Brunell was crying on the sideline.
With this win, my dad tossed his recliner across the room (not even exaggerating) in celebration.
49. O-T-I-S Smith
My favorite Otis Smith memory is when he introduced himself on MNF as "O-T-I-S".
48. Squish the Fish
Probably the greatest football slogan of all time. Very 80s.
47. Tiquan Underwood's hair
I don't think I need to explain this one.
46. Endzone Militia
The Patriots are full believers of our constitutional right to bear arms and prove it by lining the endzone with Revolutionary War reenactors with muskets.
45. The 45 yard Field Goal
Ending one of the greatest snow games I've ever seen, Adam Vinatieri nailed a 45-yard field goal in OT to send us to the 2001 AFC Championship.
44. The Colts AFC Finalist Banner
Banners are for winners, not almost winners.
43. The Everclear mosh pit
Word of caution: If you're over six feet tall and more than 200 lbs, you probably shouldn't be diving into a mosh pit from a concert stage. Someone could get hurt, which is exactly what happened in 1997 when Drew Bledsoe, Max Lane (like WTF?!), and Scott Zolak decided to stage dive at an Everclear show.
42. Jimmy G
Part of what used to be shitty about being a female football fan was the assumption I only watched games because I thought the players were hot. In the past 15-20 years, that attitude has changed dramatically and I rarely, if ever, encounter some pig who questions my devotion to the sport. But, I am still a heterosexual female with 20-20 vision and when someone like Jimmy G graces my TV screen, I take notice. Like when I was watching the 2014 NFL draft with my husband and first saw Jimmy G and blurted out, "He's hot!" Sorry, Hubby!
41. Keith Byars
Fullback Keith Byars was a beast. And his beef with Jimmy Johnson was entertaining.
40. Andy Reid's clock management
Should Andy Reid have called a timeout to give his Chiefs defense a breather in OT of the AFC Championship? The example that matters most to me is the Eagles' slow crawl to a touchdown late in Super Bowl 39.
39. Super Bowl 39
The only Patriots Super Bowl that didn't put me in full blown cardiac arrest, mostly thanks to Andy Reid's super efficient clock management.
38. Willie McGinest
One of the architects of the Patriot Way, big Willie was a force. I loved when he clobbered Kurt Warner in Super Bowl 36.
37. The Intentional Safety
What people forget is that so much of a football game is situational strategy. Where coaches like *cough* Andy Reid *cough* might lack, Belichick excels. Against the Denver Broncos in 2003, Belichick opted to give the Broncos two points via safety in order to regain field position, a decision that paid off greatly.
36. Super Bowl XX
The Patriots first Super Bowl. Sure, we got smoked by the Bears but my dad went to the game and he can go on for more than 20 minutes about how it was actually bad coaching that cost us that game. The only thing I remember about it was my dad brought us home mardi gras beads and pom poms (I was six years old).
35. Belichick's fashion sense
Every genius has a signature style. Steve Jobs had his black turtlenecks. Mark Zuckerberg, grey t-shirts. Bill Belichick, hobo chic.
Exhibit A
Exhibit B
Exhibit C
No one can haphazardly cut officially licensed apparel like Bill Belichick.
34. Mark Henderson
Mark Henderson will forever be remembered as the convict on work release who plowed a path for Patriots kicker John Smith to kick the game winner field goal against the Miami Dolphins in 1982. The game will forever be known as "The Snow Plow game" and probably still gives Don Shula agita.
33. The Krafts
The best owners in the NFL. I could do without the Trump support and complicity with the collusion against Colin Kapernick, but at least my team is good! And not in St. Louis or Hartford!
32. The McCourty Twins
What's better than one McCourty? Two McCourtys!
31. Super Bowl 31
This was the first Super Bowl in my tenure as a Pats fan. The excitement was high but the bar was low so the loss wasn't too painful. To this day, my dad is convinced that Parcells threw the game to spite Robert Kraft. Why did he keep kicking to Desmond Howard?!?!
30. Adam Vinatieri
I wanted to not include Vinatieri on this list but that would probably be sacrilege. Two of the five Patriots Super Bowl victories came off of his foot so despite him fleeing to the dreaded Colts, he'll always remain a fixture of Patriots lore.
29. Andre Tippett
I'm going to let a highlight reel of Tippett tackles do the talking here. All I will say is after watching this a few times, I'm itchin' to crack some skulls!
Oh, and he's a six-degree blackbelt. How freaking cool is that?!
28. The Matt Cassel trade
Remember that year when Brady was injured and Matt Cassel somehow stepped in and took us to an 11-5 record? Do you also remember how we somehow bamboozled the Kansas City Chiefs into thinking that Cassel had any part of keeping the Pats afloat? Sure, we had to sweeten the deal with Mike Vrabel but in turn were able to draft Patrick Chung with the KC pick we got in return. Cassel made a pretty penny, our secondary was set for another decade, and KC now has Patrick Mahomes, so I think it all worked out in the end.
27. Larry Garron
He played for the Patriots in the 1960s and I met him at the beginning of the 2003 season when he was dining at my restaurant. He was one of the nicest guys I have ever met! My dad is still mad at me for not asking for an autograph, but all was righted when we were able to get his autograph at a signing and he even remembered me! He's so nice.
26. Gronk Spikes
I'm surprised footballs don't explode when Gronk spikes them.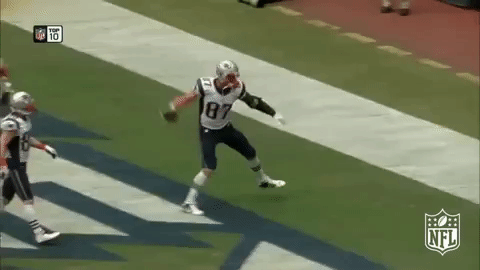 25. The Firm
Lawyer Milloy and 2018 PFHOF Inductee Ty Law!!

24. Scott Zolak
I didn't used to like Scott Zolak, when he was our backup QB. But he personifies the Patriots Homer nowadays and his energy is unmatched.
23. Tedy Bruschi
Tedy Bruschi was one of the co-founders of the Patriot Way. Underrated and overachieving. He was the fixture of the defense. Outspoken and undeniably fierce.
22. Dante Scarnecchia
I have a McDonald's Patriots commemorative cup from 1984 with the team photo on it and there he is, coach Dante Scarnecchia. In order to do what we do, we need to keep Tommy upright. And in order to do that, we need an O-line that is competent and strong. There's no better person to guide that ship than Coach Scar.
21. 21 in a Row
What fan wouldn't want to see their team win 21 freaking games in a row?! It almost got to the point where we forgot what it was like for them to lose.
20. Gino Cappelletti
For decades he reigned as the Patriots' all-time leading scorer with 1,130 points (42 TDs, 176 FGs and 342 PATs), he led the American Football League in scoring five times and had two of the top five scoring seasons in pro football history – 155 points in 1964 and 147 points in 1961 (14-game seasons). He is the all-time leading scorer in the American Football League. Cappelletti is among the AFL's all-time top ten receivers, in yards and in receptions. The Patriots' third all-time leading receiver with 292 catches for 4,589 yards, he holds Patriots' records for extra points attempted (353), extra points made (342), FGs attempted (333) and FGs made (176). (from here). Can we get him in the Hall of Fame already?!
19. Vince Wilfork's body mass
The Patriots had one of the best run defenses when Wilfork was on the field. And it's no surprise because it is a Herculean task to get around that belly!
18. Matthew Slater
The perennial Patriots captain has been a fixture on special teams. I met him a few years back at the Andruzzi Foundation Gala and he was so nice despite me blubbering like a star struck moron.
17. Steve Grogan
Watch some of this guy's highlights and you'll like him as much as I do. My dad taught me to say he was my favorite quarterback when I was three years old. To this day, he is still my dad's favorite Patriots player of all time.
16. Super Bowl 38
This was the Super Bowl victory that meant the Patriots weren't just a flash in the pan. It also was the most painful one to watch.
15. Troy Brown
Good God, I love Troy Brown. He was one of the first players I ever truly loved. I always remembered him stepping in whenever Terry Glenn had some random injury. He wasn't going to put up Jerry Rice-like numbers, but the man was CLUTCH AF.
I got to meet him back in 1998, you know, before it was cool to be a Patriots fan and no one was there to see him.
Got to see him again in 2012 when he was being inducted into the Patriots Hall of Fame. Lots of people were there to see him that day.
14. Gil Santos
I choke up every time I hear Gil's call of the final seconds of Super Bowl 36. Seriously. I'm crying right now as I type this.
Rest in peace, Gil.
13. Rodney Harrison
Rodney Harrison was the kind of player you hated when he wasn't on your team. I loved him the moment he stepped out in a Patriots uniform. He never minced words, took no bullshit. I cried when he had to retire. He was with us for such a short time but he remains as a legacy in Gillette Stadium.
12. They Hate Us Cuz They Ain't Us
I'm really not an arrogant asshole sports fan. I am well aware, and fully appreciative, of the fact that the team I happen to root for is very, VERY good. I'm sure if the tables were turned, I'd probably hate that team just as much as the rest of America.
When I started this website back in 2001, predating this domain, I would write about how much I loved the Patriots. And we "sucked." We were coming off a 5-11 season, trying to win some games with a 24-year-old back up quarterback. Outlook not good, right? And the internet was so different back then. There was no Facebook or Twitter. I would sign on to message boards and forums and see people from other fanbases rooting for us! How nice of them!
And then came Spygate. After six years of awesomeness, the NFL world unloaded pent up rage against my team. I genuinely took it personally. Twitter and Facebook made it easier for the average Joe Schmoo from West Bumfuck make their thoughts known. "They're cheaters," they'd tweet. And with the absurdity of Deflategate (I will debate this to the death!!) I had an epiphany. Why did it matter what some jerkoff from the sticks thought about my team? Why was I letting their jealousy take away from my enjoyment?
11. Edelman's catch
One of the most heads-up catches I've ever witnessed in my life. Almost made up for the helmet-catch-which-shall-never-be-named.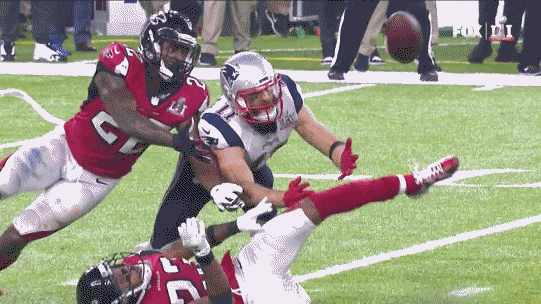 10. Ernie Adams
No one really knows what Ernie Adams does (or what "pink stripes" signifies). Analytics and scouting or something. But whatever he's doing, it works.
9. Malcolm Go!
I cannot stress this enough. If I had to endure Deflategate WHILE also grieving from the loss of Super Bowl 49, I would have died. Not to be dramatic but Malcolm Butler saved my life.
There are few things worse to me than watching the opposing offense slowly move on our defense with the game on the line. I think it's my vision of Hell – spending all eternity with Nick Foles or Patrick Mahomes or, in this case, Russell Wilson, move down the field. No, in my Hell there is no sweet, sweet relief of victory or defeat. But this isn't Hell and the dreadful experience turned into sheer elation when good ol' Pete decided to pass. Whether that was the right or wrong decision is irrelevant.
8. Walt Coleman
You might remember Walt Coleman as the referee who made the correct call in the Divisional Playoff Game in January of 2002 that overturned a fumble and gave the ball back to the Patriots.
7. Randy Moss
My dad predicted Randy would come to New England one full year before that fateful trade actually happened. Randy in New England was a game changer. Up to that point, people thought he was a locker room cancer. He actually just wanted to win. I wish we could have won one with him.
6. Butt Fumble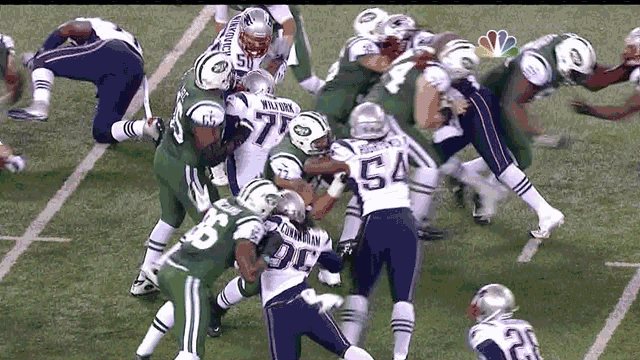 The 2012 Patriots Thanksgiving night game against the New York Jets was the best non-post season Patriots game I've ever watched. Never forget Butt Fumble. God, I miss Mark Sanchez and Rex Ryan.
5. Drew Bledsoe
My first love. I learned football watching Drew Bledsoe at the helm of our team. He is the one that brought the Patriots back from being laughable. He is the one that made them a contender. He's the QB that built Gillette Stadium. Us Pats fans cannot overlook this. He showed nothing but class and dignity when he lost his job to Tom. I've got nothing but love for him in my heart and will love him always.
4. 28-3
My heart just can't take these late fourth quarter losses. I always said that if the Patriots had to lose a Super Bowl, I wanted them to lose early so I could spend the rest of the game dealing with it and getting over it. I unhappily realized the Patriots were probably not going to win Super Bowl 51 and I could begin grieving before the game was over. The score was 28-3.
But these are the New England Patriots. Tom Brady is their quarterback and Bill Belichick their coach. And though my head said it was over, my heart never gave up. And neither did the Patriots.
The greatest comeback in Super Bowl history and my second favorite Super Bowl of all time!
3. Super Bowl 36
There is footage of then Ram, Ricky Prohel, saying "Tonight a Dynasty is born." Little did he know at the time how right he was. February 3rd, 2002 was hands down, the best day of my life. The Patriots walked into the Superdome to play against the vaunted St. Louis Rams. Few picked the Pats to win but when the last seconds ticked off the clock I experienced a rush of emotions I will probably never feel again. We've gone on to win four more Super Bowls but nothing will ever top the first.
2. Bill Belichick
The greatest coach of all time. He is a football historian who is constantly making football history. I remember back in 2000 debating some fucker in an AOL chat room who wanted the Patriots to hire Marty Schottenheimer and not "Belichicken." I wonder if that guy would admit to that today, all these years later?
Belichick is the master of coaching. In control of all three aspects of the game. He lives for the chess match. He looks for every loophole and sets all trends, then is the first to defy them.
…and the number one thing I love about the New England Patriots:
1.  Mr. Thomas Edward Patrick Brady, Jr.
There's three kinds of love in my life. 1) The love for my family, my nephews, etc. 2) The love for my husband, my soul mate and partner. And 3) My love for Tom Brady. I tell my husband all the time, we've only been together for six year. Tom and I have 19 years of wonder. No man has ever brought so much joy and happiness to my life.
I would literally take a bullet for this man.
I don't remember the exact moment when I realized Tom was the guy for our team over Drew. But there's no question now. He's the greatest of all time. We've been so blessed to have him. Sometimes when I watch games, I try to fully appreciate him and how lucky we are to have him and it's overwhelming. His greatness is just too much to handle, it brings tears to my eyes. This is not hyperbole.
Does he have one more in him? We'll find out tomorrow!